THE CUTTER'S CLUB (2005)
Reuniting Charlie with actor Tony Todd (1987's

Enemy Territory

), the film has been in post-production since early 2005, and was originally intended for a release in May of that year. This film has basically become an urban legend amongst fans. For a while I had no idea if this was actually filmed, or still being planned, or shut down altogether, but according to Charlie's old BLOG, it seems the film has gone unreleased.
--------------------------------------------------------------------------------------------------
DEADLY STINGERS (2003)
In 2003, Charles Band entered into a deal with 20th Century Fox to produce a low budget horror movie. Fox would distribute the movie, and Band would retain copyrights. The film was directed by J.R. Bookwalter (

The Dead Next Door

), and named DEADLY STINGERS. A homage to the classic B-movies of the 1950's, DEADLY STINGERS was about giant scorpions taking over a small town. However, after the film was completed, it was shelved due to a decline in the industry, and low sales of another similar project at Fox (excluding Full Moon) entitled

Dark Wolf

. The film was shown at the Frightvision Horror Festival in 2003, but has yet to see release on DVD, Blu-ray, or VOD.
--------------------------------------------------------------------------------------------------
FEMALIEN 3: RETURN TO THE FUTURE (2001)
According to the
Cannes 2001 Product Guide
, on page 44, this erotic sci-fi tale was filmed and ready for delivery. Running at 90 minutes long, with a budget under $500,000. The film stars adult film actress Dru Berrymore, also Amber Newman, Tina Tyler, Joel Lawrence, and Jerry Banks. A sequel to the previous FEMALIEN movies, the sexy aliens from the planet Altaria return to earth in 2099, becoming the worlds' new sex experts, out to spread the good word that there's nothing wrong with passion.
--------------------------------------------------------------------------------------------------
THE PRIMEVALS (1994)
First developed in 1986, THE PRIMEVALS was filmed in Romania around 1994, the movie had Richard Joseph Paul (Zack in

Oblivion

) and the Cinematography was done by Adolfo Bartoli. It was also produced by Albert Band. It now needs Post-Production. Jim Danforth, Dave Allen's former FX partner is now trying to buy rights to the film so it can get released once and for all. I would definetly buy it.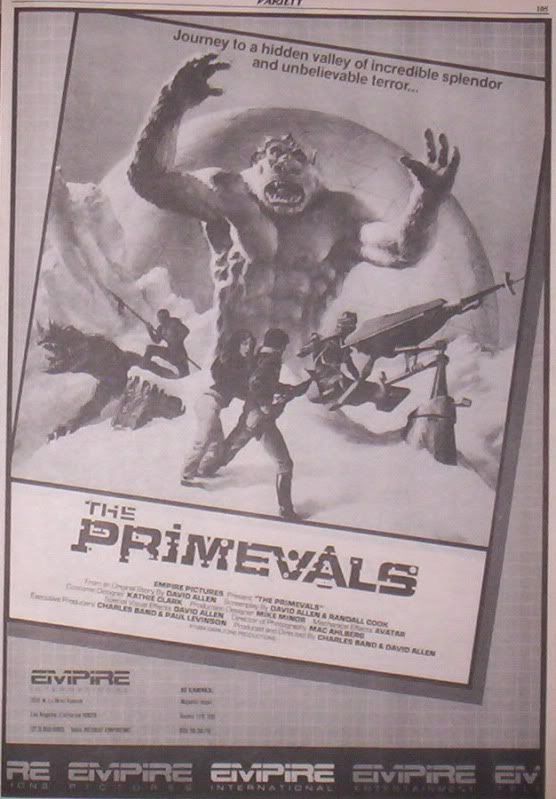 Some other information I've heard of relating to the unfinished Full Moon film THE PRIMEVALS.
Adolfo also shot THE PRIMEVALS for Charles Band/Full Moon in 1994 in the Italian Alps and Romania, a film directed by the late David Allen who died on August 16, 1999 while still toiling away slowly on the film's effects. The film has never been released nor even completed with several stop motion animation and other vfx sequences still to be worked on, though attempts are still being made in 2006 (and beyond) to get it finished. The film stars Juliet Mills, Leon Russom, Richard Joseph Paul, Walker Brandt & Tai Thai.
It was David's legacy and lifelong passion to get this film project on to the screen and for that reason his friends and co-workers are working to still see that happen.

THE PRIMEVALS - a tale about a secret Himalayan valley populated with giant Yetis and an ancient race of alien lizard men - was a project which Allen had nurtured in various forms since the late 1960s. After attempting to finance his dream-project independently, Allen was introduced to producer Charles Band who, at various times during the next 17 years, started up the production in 1978 only to cancel it later for various reasons. But in the late 1980s, it looked like Allen had finally found the backing he needed from Band and the film would be completed. Live action was filmed in the summer of 1994, and from 1995 though much of 1999, Allen worked constantly on the film, devoting untold hours to executing its complex animation sequences. How cruel that Fate should choose now of all times to play such a callous trick, preventing Allen from ever seeing THE PRIMEVALS up on a cinema screen. He died at age 54 in 1999.
In 1968 Allen began working on a project called RAIDERS OF THE STONE RING, the project which eventually became THE PRIMEVALS. A list of other artists who have been involved with the project over the years reads like a Who's Who of stop-motion: Jim Danforth, Dennis Muren, Ken Ralston, Phil Tippett, Randy Cook, Tom St Amand, Dave Carson, Jon Berg....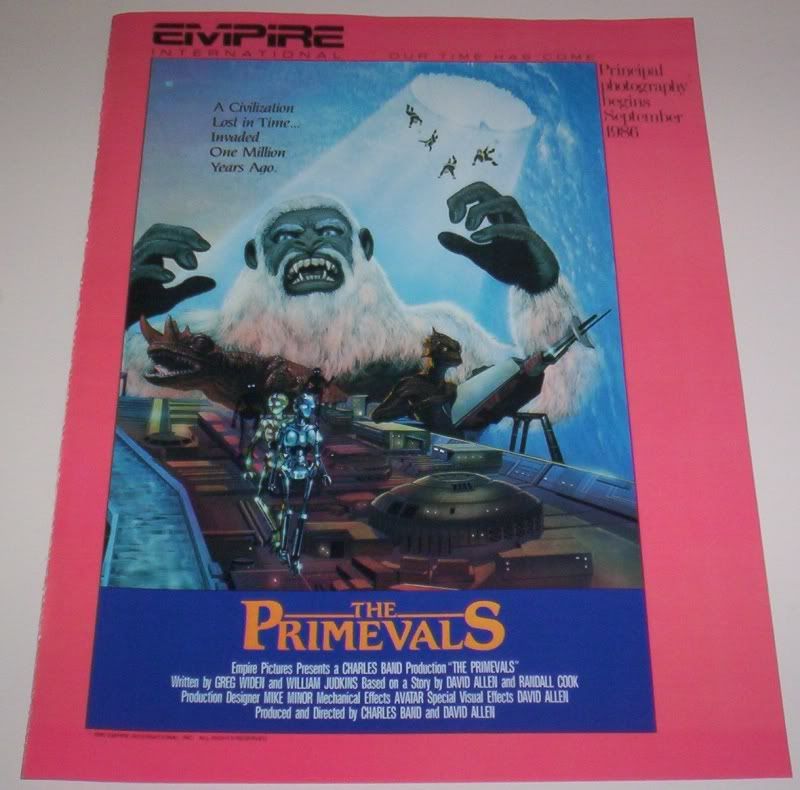 This was just a rumor, but apparently test footage of THE PRIMEVALS on a (super-expensive) stop motion-focused boxset from Japan that includes

Robot Jox

and Full Moon's Cinemaker package.
--------------------------------------------------------------------------------------------------
PULSEPOUNDERS (1988)
An unfinished Empire Pictures film directed by Charles Band, and starring Tim Thomerson, Helen Hunt, Jeffrey Combs, Barbra Crampton, and Richard Moll.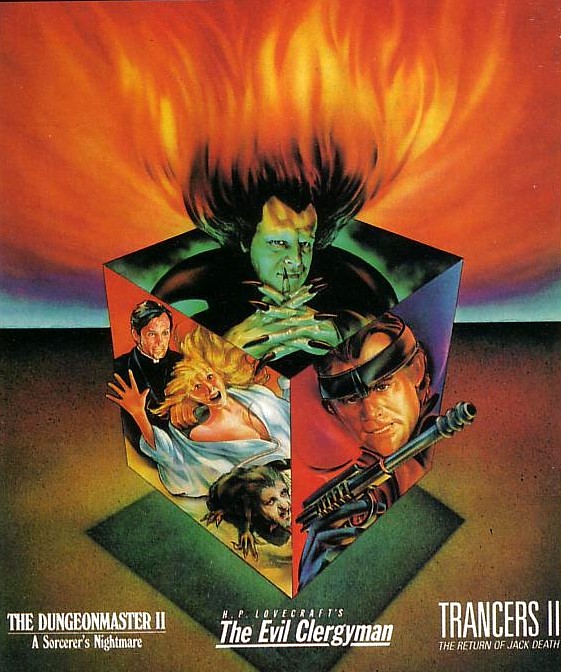 Here's what I've heard Charles Band had to say about PulsePounders:
"PULSEPOUNDERS is completely shot, it just needs post-production," says Band. "I still hope to get it out of the mess it's tangled up in and release it. David Gale is terrific in it, and with him gone now, it's all the more reason to get it out where people can see him one last time."
(From Fangoria #71)
Now here's what Jeffrey Combs had to say:
"Pulsepounders is a real curiosity," Combs says. "It's a movie - or a segment of a trilogy - that i did back in the 1980's while over in Italy. As far as I knew, that movie never got finished. Empire Pictures, Charlie Band's company at that time, tanked. So that film was in pieces and incomplete, and so far as I'd heard just lost in the wars. Now it's showing up on the internet as something that's coming out. I did my segment soon after Re-Animator with Barbara Crampton, the late David Gale and David Warner. Other than the dailies I saw at the time, I never heard or saw anything about it again until information about it suddenly turned up on the internet. So who knws about that. Maybe the next time I talk to Charlie Band, I'll ask him about it."
(sent to me by a fan)
"I was in a segment called 'The Evil Clergyman', based on a Lovecraft story, Combs continues. "They did a short Trancers / Jack Deth story which I think Helen Hunt was in. And they did one more with Richard Moll, based on another Empire Pictures movie [Dungeonmaster] that had been successful. So it would have been three little odd and hastily connected pieces. They'd all been shot, but they were never able to finish them up. So it would be interesting to see if that does come out - and if it does, well, Charlie owes me some money."
(From Fangoria #71)
A film that's been left in the vaults for the past 14 years, despite Charles Band's assurances that he was going to finish it off and release it under the Full Moon banner. One of his first dreaded 'multi-sequels', but one of more interest than subsequent trash such as 'Dollman Vs. Demonic Toys': an episodic sequel to 'The Dungeonmaster', 'Trancers' and the H.P. Lovecraft franchise (via an adaption of 'The Evil Clergyman'). David Warner joined Lovecraft stalwarts Jeffrey Combs and Barbara Crampton for the last episode, while the cast of 'Trancers' and 'Dungeonmaster' reunited for the first two installments. Contrary to popular belief, no footage from this film was used in Band's 1991 sequel 'Trancers II'.
(From Variety, sent to me by a fan)
The film has never actually been released and may never be released.
(From Femme Fatale Vol. 1 #1)